So Murray showed up today with the ladder (a little giant system, which allows for an uneven base (ie: stairs) for it to work in a stepladder configuration) so I can now finish the painting. Cam and Murray also brought a chopsaw later in the day and proceeded to build a fair amount of the workbench. Time constraints for Murray (and by extension Cam whose stuff was in Murray's truck) meant they had to leave a little before the task was complete, but the stuff they did leave were tasks I could handle easily on my own.
Except for the fact I decided to take advantage of the chop saw and finish another task I've been itching to get done, and that's installing the accordian door for the utility room. Voila!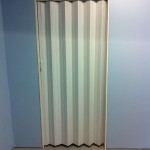 Granted, I'm not done with the door quite yet as I've got the casing/baseboard/whatever-the-heck-you-call-that-moulding to go around the doorway, but the major bit is done and it works as well as can be expected for a relatively cheap vinyl accordian door. At least the aesthetics are satisfied!
---
Spent a bit of time today going through the turnout needs for the layout. As in getting a substantial amount of sticker shock at how much I'm needing to spend to get the stuff to build the 68 turnouts in the layout. Thankfully it's still nowhere near what it would cost if I bought them, but still…I think I'm going to order just what's necessary now to build the skeletons of the turnouts and then the QuickSticks later.
Of course, this isn't including the massive amount of flextrack needing to be acquired to connect the turnouts or the parts needed to actually control the turnouts (and the polarity of the frog) themselves.
Still waiting for the ladder, chop saw and friends to help out with getting the workbench installed and the partition wall built…All in due time I guess.
---
Admittedly, this website should've been up far before this point, but on the behest of those on the CanModelTrains Yahoo! group, I decided to get something going. I'll also confess to being quite encouraged by Tim Warris of Fast-Tracks fame and his blog about the Bronx Terminal of the CNJ and it's construction.
So at this point, the basement walls still need a second coat of paint, the stairway painting needs cutting in (need special stepladder for that) and a second coat of paint, windows need casing, doorway needs to be installed for the Utility Room, and lastly, the workbench area needs the floor primed and painted before I can claim the basement development complete and then I can move forward to getting things built. Oh yeah, I guess baseboards would be nice too.
Happy Thanksgiving!
---