Yes, it's been a little while, again.
Still busy with SUPERTRAIN stuff, but I have been trying to keep progress going forward in the basement. Maybe not really in the trackwork/benchwork realm but in the rolling stock. I now have three skeleton log flats which are nearly ready for decals and a couple 50′ long flat cars suitable for idler flats. More on the five pack later.
Cam has also been really busy over the week getting all the last details added and painted on 3000 and 3004, in preparation for the 'Homecoming'. Friday night he escaped from work a little early and came with me to Dave's place to get some last minute touch-ups and details done. All tested and these things are awesome.
The next day (ie: Saturday/today according to my dating scheme here), I was busy doing a ton of cleaning in preparation for the party. Cam arrived around 1pm and we got to work on niggling issues with the layout…specifically the problem turnouts, at Parksville and ICG Nanaimo. The former was needing rails spiked to the ties and some minor adjustments, the latter needed to be shifted and spiked. Will still need some work, so some flags (aka yellow and green pushpins) were setup and and a Daily Bulletin was issued to advise of the slow order through the turnout.
I also did a thorough vacuuming of the track and thought that would be all. Not quite as it turned out.
Guys started showing up just prior to the appointed time and the layout was deemed okay to turn on (oh yeah, forgot to mention… A fair number of frogs in the staging yard needed gapping) and the locos were fired up, assigned and coupled up to the Courtenay turn and Cam had the Honours to be the engineer to run the train containing a lot of his work (3000 and 3004, as well as the skeleton log flats) out to the end of the line and back.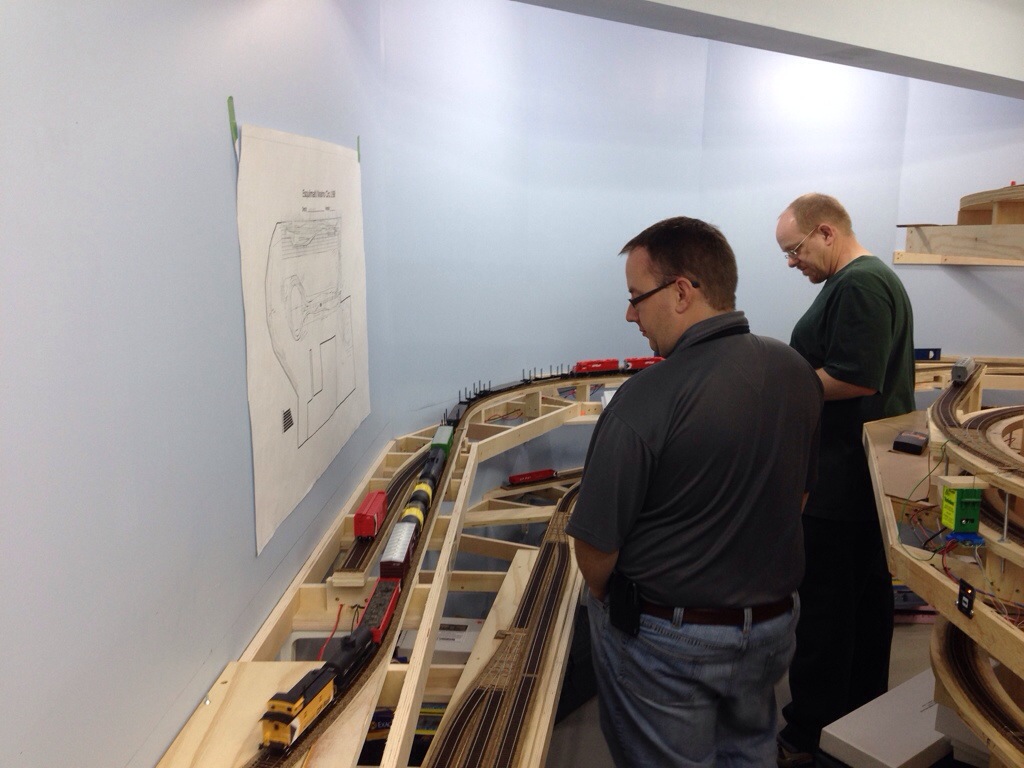 That's Jeff Simpson in the foreground admiring the train with Cam running in the background.
Jeff was accompanied by Josh Soles and Matt Cummins who gladly accepted a throttle and 6101 to run VIA 198 and 199 out to Courtenay and back. A little quickly mind, but at least most of the crews running freights gave the passenger service minimal delays. Chuck Johnstone, Tyler Federoshyn, Dan Hamilton and Kevin Pyle also made appearances and some of them had opportunities to run trains as well. Kevin has built a few of the Kaslo skeleton log flats and agreed that they're too light to run empty, but he's got a good means to produce the poles… I'll be leaning on him for a drill press and his expertise to make the poles I need for the two industries loading them…
All in all, a good day, summed up in this picture of Josh admiring the two GP38AC's: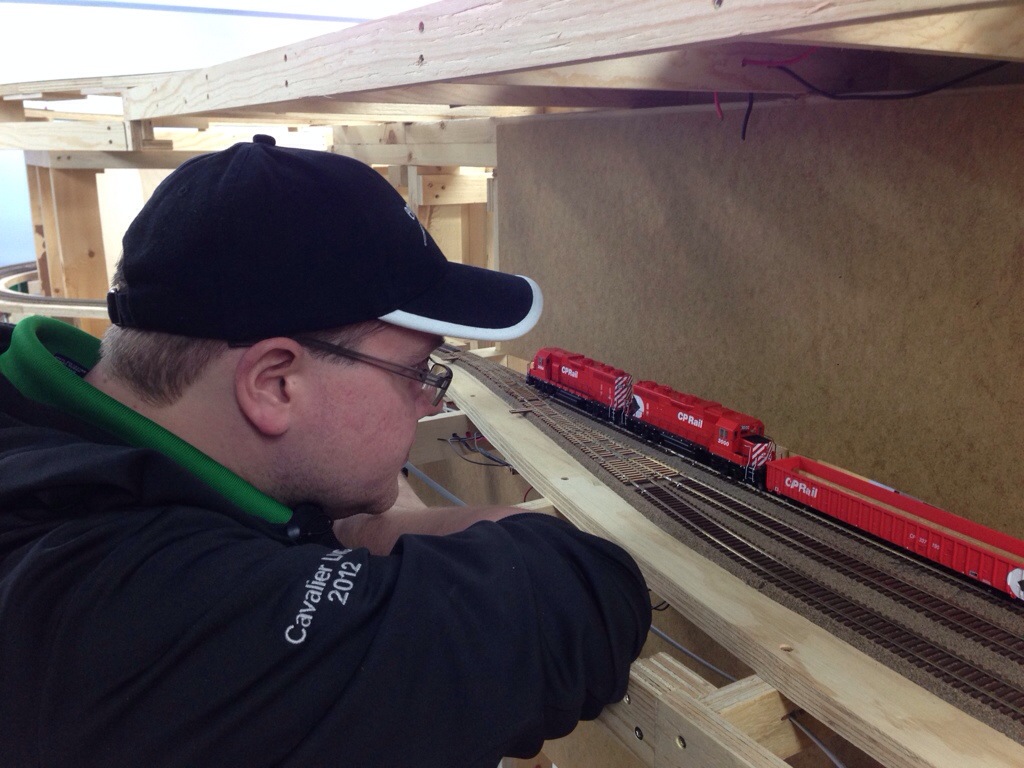 ---