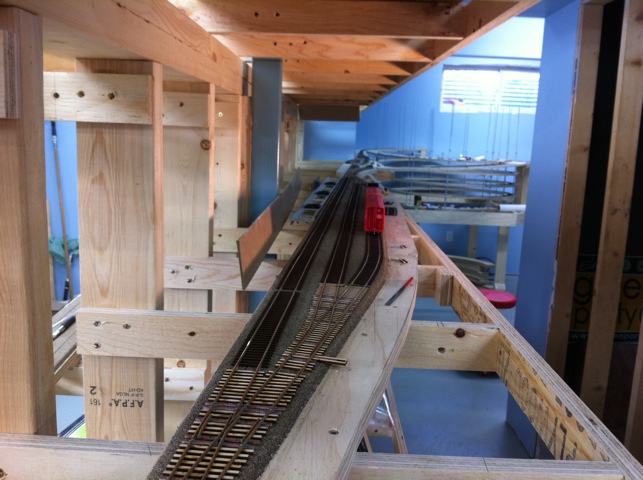 We're getting quite close to having no code 70 track left to install, now that Parksville and the trackage on the port sub is ready for permanent installation.
---
Dan called this morning, saying he'd like to come over.  I of course agreed and shortly after noon (only slightly delayed), he arrived and we got some wiring work done.  He works for a demolition company and managed to salvage some good lengths of red, black, blue and white 12-14 gauge solid wire and donated them to my cause.  So after ensuring all the wiring chase holes were drilled, we got to work on installing the wiring into the lower deck and the middle deck (despite the fact there's no trackage installed yet).
Afterwards, the feeders were installed from the track and hooked up to the bus wire.
Cam arrived during this point and continued working on the trackage towards Buckley Bay.  Mud Bay siding was completed as was a good portion of the trackage between what will be Buckley Bay and Mud Bay (around the base of the peninsula)
Afterwards, I fixed up a turnout – forgot to cut isolation gaps and install guard rails on the turnout at North Siding Switch Mud Bay – and then we hooked up the power pack to the bus wire.  And then began the fun!  Dan got the honours of running a really long train from the helix down to Mud Bay and beyond.  Given the fact the train was way over length for the siding, we had some fun working the train back and forth to get the locomotives by all the cars and then back into the helix with the caboose on the tail end.
I now know that I need to get a fair number of couplers replaced as those crappy plastic couplers just don't hold up to anything in the way of strain.  Not that was any new knowledge in my opinion…I knew I needed to, but the need for work to the fleet of cars I've been acquiring over the years will now need to happen sooner than later…
Cheers!
Jon
---