January 2, 2012
Today saw the finishing of the turnout for Buckley Bay, the laying of track up to Union Bay, and the building and install of the bullfrog controlling the Buckley Bay turnout.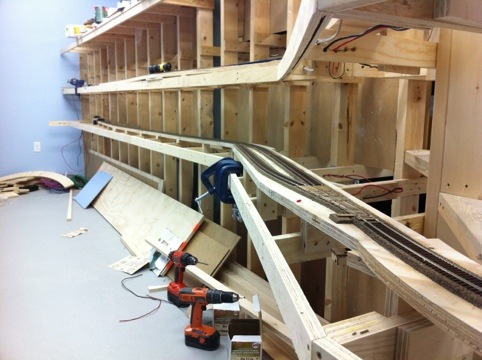 Of note with the track between Buckley Bay and union bay is the loose bit of track. No spikes, no soldering of the rail joiners. Possibly no feeders either.
It's in preparation of the install of the bridge over Hindoo Creek, a short 15-tie long bridge, where we have some room to install bridges.
For the most part, the benchwork doesn't allow for many bridges, owing to the lack of vertical clearance. Such was the fate for the Englishman River Bridge, but being on the lower deck, space below allows for these scenic features.
Also of some importance to the list of things done yesterday, and while we're on the topic of bridges, is the install of the final bit of benchwork between the end of the peninsula and the straight stretch of grade into Port Alberni. Cam and I left this for a while trying to figure out how to handle the several inch drop from the benchwork around the top of the peninsula to the bit that was installed at the same height as Port Alberni itself. The benchwork was installed to be level with the port alberni height and one giant leap up to the next level. The extra clearance will allow for the install of the trestle around mile 25 of the Port sub. Here's a picture of said benchwork. The high spot is on the right.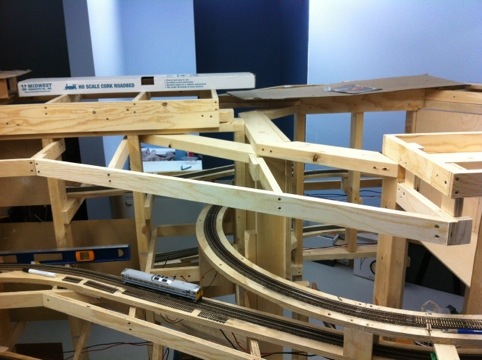 With the near completion of the trackage on the lower two levels of the peninsula, efforts will now start towards the completion of the main helix and trackage towards Port Alberni. About time we started paying attention to the Port Sub, beyond the little bit around the Parksville area…
Cheers!