July 15, 2012
Saturday, went down to see Bruce (The Dispatcher) to pick up the first of the circuit breakers for the layout, a DCC Specialties PSX-4. Lots of good reviews for this and the unit will certainly help keep the bulk of the layout running when derailments and switches being run through short out the district.
Cam came over and we worked on getting things at the Booster Shelf cleaned up and sorted out to get the circuit breaker installed. Owing to the PSX-4's rather large size, we had to build a secondary shelf to hold the power supplies for the boosters, and that allowed lots of things to be organized.
I'll be ordering a couple PSX-3's to subdivide the outputs from the other two boosters shortly, and here's how the sub-districts will work out:
| | | | |
| --- | --- | --- | --- |
| Output | 1 | 2 | 3 |
| A | Parksville | Port Alberni | Upper Helix |
| B | Bryn | Arrowsmith | Lower Helix |
| C | Courtenay | Nanaimo | Staging Yard |
| D | Mud Bay | N/A | N/A |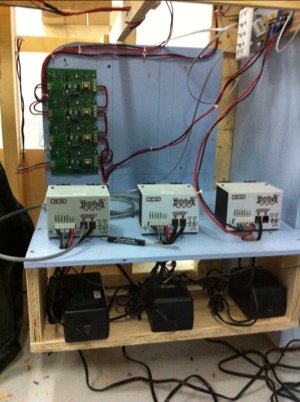 Here's a picture of how it's set up for the moment. The blue wall immediately to the right of the green circuit board (PSX-4) is where the PSX-3's will go. Starting to look somewhat organized! Too bad I didn't think to take a picture before we started on all this… Oh well, hindsight is 20/20, right?