November 13, 2012
Made a lot of sawdust tonight on just five jigsaw cuts. Admittedly most of those cuts were in excess of four feet long each. And this is what I made: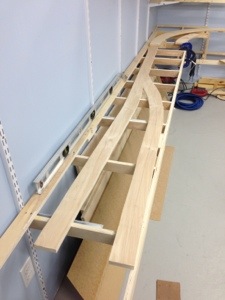 No, it's not a wooden saguaro cactus silhouette (like the ones used in the night time scenes of Silver Streak) but rather the trackboard for Dominion Tar & Chemical. The spur on the right is where poles were loaded into three and five car sets for shipment all over the continent to be used for power poles.
It's not much, but it's still progress.