April 6, 2013 – The Bridge is in!
Really wanted to get some really meaningful progress done on the layout this weekend and made it happen. This past Wednesday, went down to Murray's place and borrowed his router (and bits), and lined up assistance from Cam and Dan for Saturday.
We tore apart (again) the area around the Vancouver Island Gas spur, to allow for better scenery work, then built the trackboard down to the depot.
And then we built a bridge!
A fair bit of thought (and purchases) went into engineering and building this movable bit of benchwork, primarily because I vowed after hitting my head on a duckunder at CMT, that I would never have to bend over to get into the basement. Though there is a major crawl to get into the dispatcher's desk, the rest of the operating session crew should never have to bend over to access any of the trackage. Anyhow, after much deliberation, we decided on a lift-up bridge rather than a swing bridge as originally intended for the access to points south of the Nanaimo depot. Lots of measuring, cutting, routing and then plenty of glue (of two types – the regular yellow carpenter's glue and a polyurethane glue) were used to bond the wood and metal together. Here's the bridge in the closed position: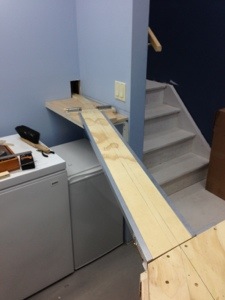 And in the open position: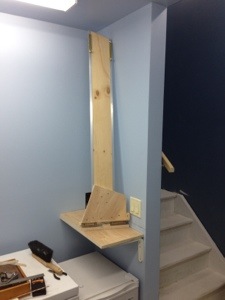 Yes, I know I need to install a doorstop or some such device to prevent the drywall from getting dinged too badly, but the hinges do assist in ensuring the bridge won't fall down unattended, and provides some assistance in lifting it. It's still very much a manual process to open or close, but it's nowhere near as much work as it would be if there was no spring in the hinges.
I'm still needing something in the way of an alignment pin to keep a lateral alignment certainty but the brass latches on the underside make sure the vertical transition stays as it should.
We also need to get cork and track laid, but it'll likely be after SUPERTRAIN before that happens owing to the time needed to build two curved #8 turnouts, two #7 straights and two #6's for the trackage needed up to the bridge.
I should also really get the wiring finished for the lower helix and the rest of Courtenay yard too… Lots to do for sure before the next major bit of benchwork: the Staging Yard!
Cheers!